What's on – Offers, News & Events
---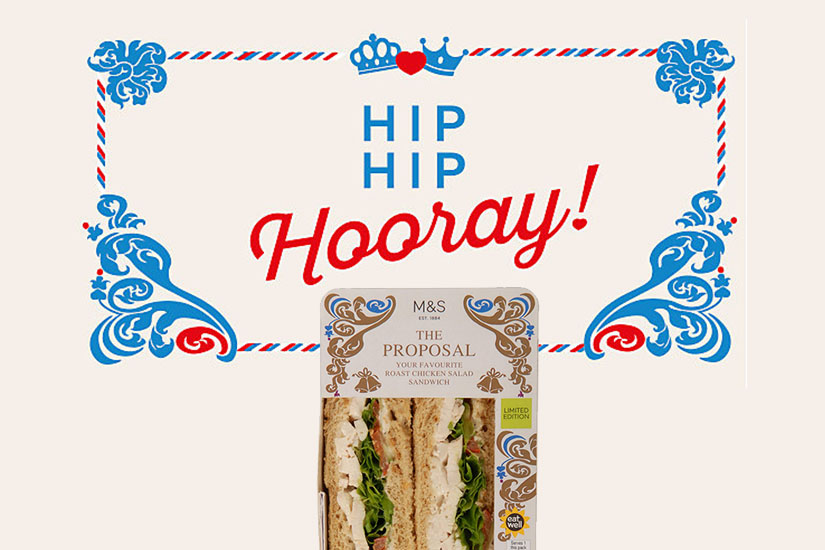 M&S Sandwich – 'The Proposal'
In celebration of Britain's most anticipated wedding of the year, Marks & Spencer's highly-popular Roast Chicken Salad Sandwich has had a royal makeover.
The limited edition 'The Proposal' sandwich is available in M&S stores now, until 27 May and features specially designed packaging to commemorate the Royal nuptials.
Helen Brennan, Sandwich Product Developer for M&S, said: "The news that Harry got down on one knee to pop the question over a roast chicken captured the hearts of the nation and inspired the M&S sandwich team to create a limited edition rebrand of one of the nations' favourite sarnies."
M&S are also offering a free wedding lunch to every public guest who has been invited to the Royal Wedding! – Following some confusion as to whether public guests attending the Royal Wedding will be offered refreshments on the day, M&S are pledging to give away free 'The Proposal' sandwich meal deals to all 2,000 public guests invited to the special occasion. Those lucky enough to have an invitation to the Royal Wedding will just need to show their invitation to their local store manager and will be able to pick up a free meal deal on Friday 18 May or Saturday 19 May.
M&S sells 3 million Roast Chicken Salad Sandwiches every year, it has been a favourite with M&S customers for years and is made with chicken that has been marinated in slow-cooked, rich stock and then roasted. Lettuce and tomato are added to the mix and it is served on malted bread.
Head down to M&S at Liverpool Shopping Park to pick up your special sandwich!