What's on – Offers & Events
---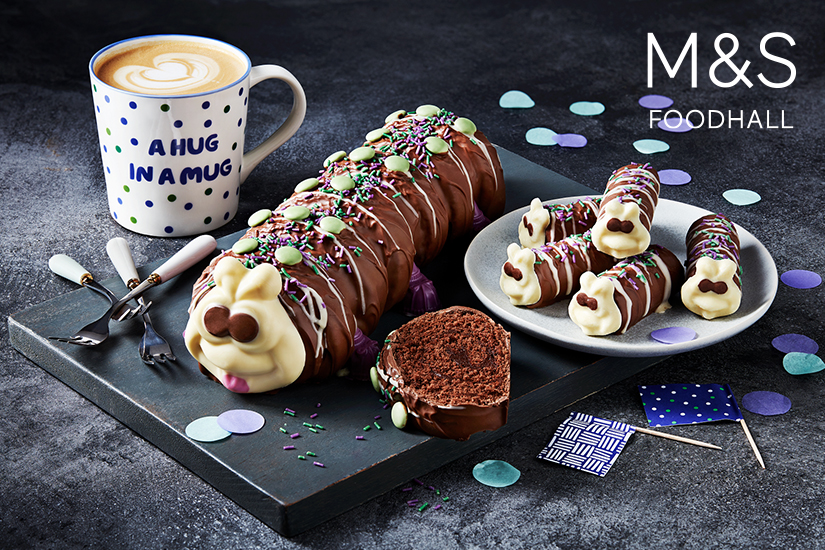 M&S supports Macmillan World's Biggest Coffee Morning
M&S Food is once again supporting Macmillan Cancer Support's annual fundraiser, World's Biggest Coffee Morning, marking an amazing 11-year partnership together. To date, we have raised £19 million together for people living with cancer and their families.
This September it's time to BAKE A DIFFERENCE for Macmillan Cancer Support, to help fund vital support for people living with cancer, who need Macmillan more than ever before.
With the nation taking to their mixing bowls more than ever, we're calling on people to come together and do whatever it takes to get involved. M&S Food is running a baking challenge on Instagram throughout September – so everyone can put their new-found baking skills to use for a GREAT CAUSE. We're asking the UK to show off their best baking creations and take part in our #CakeDonateNominate challenge. Get involved by posting your homemade bake on Instagram, donating £5 to Macmillan and tagging five people you'd like to see dust off their aprons.
M&S is providing delicious inspiration to encourage people to bake it happen for Coffee Morning – from super easy fridge cakes for the family, moreish banana bread (we should all be able to make this lockdown favourite by now!) to epic Colin the Caterpillar cookie dough cupcakes, topped with our brand new Mini Colin Faces! Find our recipe inspiration on our M&S Macmillan page here
M&S Food is also introducing Macmillan products for our customers to enjoy, including a limited-edition Colin the Caterpillar and Mini Colins, adorned with purple and green decorations, with 10% of sales donated to the charity. We'll also be donating 5p from the sale of every coffee and slice of cake sold at our in-store cafés throughout September.
On your marks, get set… #CakeDonateNominate
How to get involved…
Step 1: Bake Cake (or whatever you fancy!)
We're encouraging everyone to get baking – be it cakes, cookies, pastries or your own special recipe. We're helping out with some delicious inspiration!
Step 2: Donate £5
Text MYBAKE to 70550 to donate £5 or donate here: https://www.justgiving.com/fundraising/CakeDonateNominate
Step 3: Nominate
Post a picture on Instagram of your bake, yourself, your donation… anything related to the challenge. Add #CakeDonateNominate and don't forget to @ the next 5 people you'd like to nominate. 
Let's get the whole of the UK baking for Macmillan!
* Please text MYBAKE as one word in order for your donation to be processed.
Texts cost £5 plus standard network rate. Get bill payer's permission. Age 18+. Queries and full T&Cs call 0300 1000 200
If baking just isn't your forte, there's lots of other ways to donate with M&S Food – and enjoy a delicious cake or two!
Throughout September, M&S Food will be donating 5p from the sale of every coffee and slice of cake sold at our in-store cafés. Selected products in-store will also donate 10% of sales to Macmillan, including our limited-edition Macmillan Colin the Caterpillar and Mini Colin the Caterpillars, selected tea and coffee and exclusive Macmillan-branded mug and travel cup. There's also trolley keyrings and pens on sale at the till points, with 100% of sales donated to Macmillan.
Online there's also a whole host of delicious cakes for those that want to host their own Macmillan Coffee Morning, or enjoy a delicious slice with family and friends, with 10% of each sale of selected cakes donated to Macmillan.
Colin gets a Macmillan makeover!
Colin's been celebrating his own 30th birthday – and now it's time for him to celebrate 30 years of Macmillan!
For the third year, we're giving Colin the Caterpillar and Mini Colins a special Macmillan limited-edition makeover, in honour of the Macmillan's Coffee Morning. He's the same irresistibly chocolatey swirled sponge we all know and love but outside, he'll be adorned with a mix of Macmillan's colours, including green sprinkles and purple feet.
Macmillan Colin the Caterpillar Cake £7 
Macmillan 5 Mini Colin the Caterpillar Cakes £2.25
Italian Ground Coffee £2.50

Italian Coffee Beans £2.50

80 Luxury Gold Teabags £2.60

Macmillan 'Hug in a Mug' Mug £4

Macmillan 'Drink Refill Repeat' Travel Mug £3

*available in selected stores and online

Macmillan Trolley Key Ring £3.50

Macmillan Pen £4
M&S Food has a dedicated M&S Coffee Morning page on Just Giving for customers to donate:https://www.justgiving.com/fundraising/Marks-and-Spencer-Fundraising-2020
We'll also be raising money locally via store fundraising efforts and we'll be promoting a charity donation at all our checkouts too.
For further information on Macmillan and #CakeDonateNominate please visit our Macmillan website